On July 1st, we celebrate a special event. Join us as we celebrate 40 years of Wabash Mfg. Inc and our legacy of being industry leaders who love to "do what hasn't been done before" and take pride in our excellent customer service and manufacturing capabilities.  If you are already one of our satisfied clients, you know that we are true to our motto that we provide 'quality products and services at fair prices'.   We are going the extra mile to serve you well into the next decade. Here is a little more about our company and why you should trust our services.
Wabash Mfg. Inc. Where it all began
Wabash started in 1981 with main operations in Rainbow Lake, AB. We first provided rebuilding and installation of oilfield production equipment. That morphed into pipeline fabrication and installation for major markets and joint ventures with various markets.
Through contacts in the oilfield trucking industry, we were then asked to start building tank trucks. We considered it an honour to be able to provide custom builds for our valued clients who put their faith in our services throughout the years.
Since then, Wabash Mfg. Inc. has led the custom manufacturing industry as the number one custom solution to any manufacturing support equipment problem. Wabash has grown and become established in many industries from Mining to Fluid Hauling to Rail Support Equipment and more.
Located in Westlock, Alberta, Canada, Wabash Mfg. Inc. is a privately-owned company known for its high-quality fluid hauling tanks, trailers, mining support equipment, rural fire tender units, and custom manufactured solutions.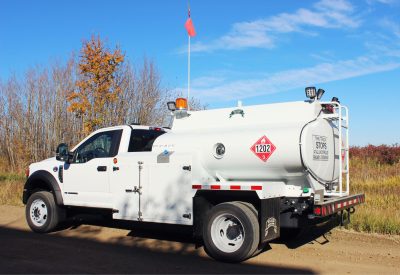 Our business model is customer-centric, which is why over 85% of our business is from repeat customers. Our goal is to build long-lasting relationships with each of our clients, ensuring their needs and services are constantly met with the highest quality customer service and work. This can be seen through our impressive record of accomplishments, and certifications. We're expert providers of custom solutions that make your life easier. Our experienced technicians create quality products that increase your profits while decreasing equipment costs and downtime.
40 years of Wabash Mfg. Inc. client satisfaction and happiness
Some of our clients that rely on our continued and high-quality service include municipalities, small independent companies across the mining, oil, and gas, agriculture, rail, and aviation field, as well as large multinational public oil and gas and mining corporations.
Our manufacturing and service facility is positioned in the heart of Western Canada. We're strategically placed so you can access us from any direction, but we also offer our customers vehicles and equipment internationally. We export internationally to the USA and Asia and service clients in Africa, Mongolia, and South America.
Whatever the problem our clients might bring us, Wabash Mfg. Inc. will find a solution. We pride ourselves on our quality manufacturing of oilfield fluid hauling tanks, articulated mining equipment, and support equipment for many industries. We're renowned for our innovative ideas, practical solutions, and emphasis on safety. We build products that work hard and last.
Wabash Mfg. Inc.'s most notable accomplishments.
Wabash Mfg. Inc. was the first to produce an LNG mining support truck.

 

We have been continuously emerging from economic downturns stronger than ever – surviving tough economic pitfalls such as the recent COVID-19 pandemic's impact on the economy worldwide.

 

Wabash Mfg. Inc. has an amazing team of over 90 employees who are the faces behind the company's resilience and success.

 

We have provided customized solutions for 40 years – and there is never a problem that is too big, or too small.  We provide professional engineering and drafting services, and custom manufactured products, and will devise the perfect customized solution every time.

 
Our goal and mission are to provide our customers with the highest quality products, even if the request is out of the ordinary.  Some of the greatest thinkers and most successful people in the world have found the greatest innovation out of odd requests. Innovation fuels our passion and purpose. We thrive at fulfilling custom orders, no matter how challenging, because our customers are that important to us.
Our Quality Manufacturing meets International Standards of Excellence
Part of our commitment to customer satisfaction is our Quality Management System (QMS). We have had many certifications in place for years, but we have recently updated our QMS to encompass all aspects of Wabash operations. Our QMS is now certified to ISO9001:2015 standards. The significance behind this international standard is a guarantee and assurance that Wabash's QMS meets or exceeds standards recognized globally. With our certifications, we continue to provide our customers with a high level of assurance that we provide quality products and services. Along with our certifications, we have qualified teams of professionals who have been trained to perform at optimal levels and provide customers with the support they need. Our commitment to quality is key to everyone's success.
Additionally, we are in the process of obtaining a unique certification, B625, that will enable us to manufacture, repair and globally ship equipment used in the transportation of dangerous goods. We will be the only Canadian manufacturer of this designation positioning us to export this locally made solution across Canada and into global markets. The next 40 Years of Wabash Mfg. Inc. will allow us to provide services to new locations and industries.
Custom support vehicles for the oilfields
Wabash Mfg. Inc. provides custom oilfield support vehicles for various clients big and small. Our Industrial Lube and Fuel Trucks are critical for keeping heavy equipment in the field maintained and operational without having to leave the worksite. Lube and fuel combo trucks provide all the essential clean fuel, lubricants, greases, and anti-freeze/coolant required to minimize production downtime as well as provide storage capabilities for used fluids. These units help keep your workers working rather than having to wait for preventative maintenance or fueling. This is especially important for the oilfields but also mining, construction, pipeline, and other remote work industries.
Wabash Mfg. Inc. custom-designed Fuel and Lube Combination Trucks are built to last. Time and time again new customers come to us because what they owned before does not withstand the harsh Canadian climates and environments.
Custom solutions for support equipment in the mining industry 
Wabash provides mining support equipment that will maximize the productivity and performance of our mining clients while minimizing their downtime and maintenance. Our mining support solutions are designed to save our clients time and money. We assure that purchasing from Wabash Mfg. Inc. means investing in equipment that is reliable, efficient, effective and that's built for the long haul.
Wabash Mfg. Inc.'s Off-Road Vacuum trucks are industry-leading for withstanding harsh environments with the rugged conditions of mining roads, extreme weather conditions, and rough terrain. They have been proved to withstand everything Mother Nature can throw at them.
Our custom designed and fabricated Articulating Fuel and Lube trucks can be mounted to various manufacturers and are designed using the latest technologies including 3D modelling and Finite Element Analysis Software
Wabash Mfg. Inc. also designs and manufactures Mobile Lunchrooms to any specifications to help our mining clients keep maintenance personnel closer to their tasks and decrease equipment downtime.
We employ staff that are known for their superior technical training and have experience on the ground. We understand what our clients need, and we pride ourselves on providing vehicles and equipment that are specifically engineered for Western Canada's mining operations and conditions.
The evolution of 
the Customized Water Truck
Wabash Mfg. Inc. provides several different types of water trucks that have evolved over the last 40 years to the needs of our clients.
We provide county fire tender units to support municipalities in their efforts to prevent and fight fires. Wabash provides potable water trucks to deliver cisterns filled with drinking water to camps, refineries and most recently, some of our indigenous communities as a safe water solution. We also provide non-potable water solutions known in the industry as rig-water trucks which are used to fill sumps, and spray roads to keep the dust down during road construction. Most of these trucks can be insulated based on our customer needs and the climates in which they serve.
One of our most recent and notable projects solved a very particular problem. A stream had collapsed prohibiting a very important salmon population from migrating. Wabash designed and manufactured a water tank truck to transport loads of salmon upstream to spawn, reducing the disruption to and impact on this important food source. This joint project is a source of pride for our Wabash family and community, and we were delighted to be able to help when we were called upon.
Safety equipment for heavy equipment:
 Exclusive dealer in Canada of the infamous TED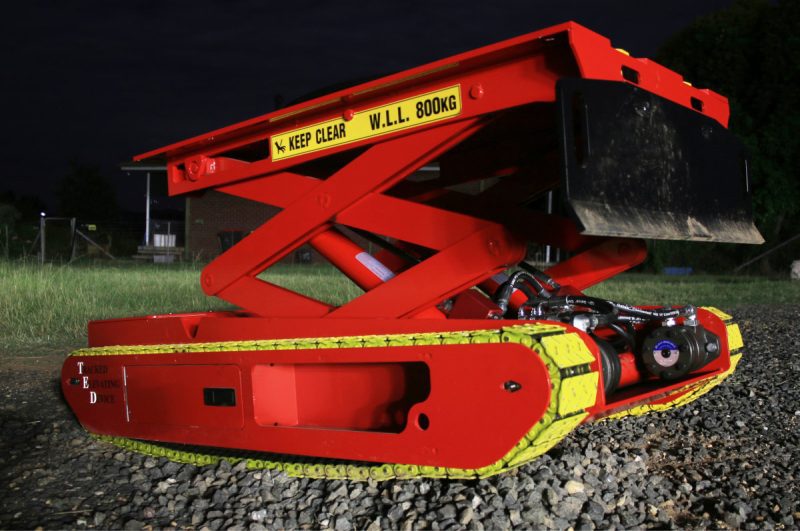 Wabash Mfg. Inc is serious about workplace safety. Our people are our family, and we want to make sure that all our clients' families are protected too. That is why we are proud to be the exclusive distributor of Nivek Industries' Tracked Elevating Device in Canada, Washington, Idaho, North Dakota, and Minnesota.
Tracked Elevating Device (T.E.D.®) makes workplace safety a breeze. The cleverly designed TED® eliminates workplace risk associated with suspended load hazards by allowing workers to remove bulldozer belly plates safely and efficiently using TED's® remote control.
It comes with all the features you'd expect of a device designed with safety in mind. Tracked Elevating Device (T.E.D.®) is wireless, remote-controlled, battery-operated, and capable of navigating a wide variety of terrains.
The hydraulic jack has an innovative skid-steer track system that offers unparalleled stability, manoeuvrability, and ease of use. TED®'s practical design allows for on-site servicing. It removes the need for your equipment to be floated back to the workshop.
Wabash Mfg. Inc. is proud to be supporting many of our municipalities in their infrastructure projects and firefighting efforts.  We provide support and service vehicles for road construction including water trucks and fuel trucks to make sure jobs get done as efficiently as possible.  We also manufacture rural fire tender units that deliver water to be used in firefighting activities.
Any job involving excavation raises dust. In a large-scale construction or mining operation, the dust may become unmanageable making work difficult and creating health risks for the workers on site. Potable Water Trucks provide the most efficient source of water to cut down the amount of dust kicked up during these types of earthmoving activities.  Water Trucks with elliptical tanks are custom built and available in several different head sizes and lengths to suit the customer's needs.
Wabash Mfg. Inc. manufactures fuel delivery tanks that can be mounted on new or used chassis including Ford F550 or Dodge Ram and tridem drive units. These fuel trucks are a must have time saver to support your other equipment in the field as a mobile fuel station.  They refuel construction equipment onsite keeping crews working for longer periods at a time. Our Fuel Delivery Trucks are heavy duty and designed for muddy and rugged terrain.
Diversifying our support and service vehicles into rail and aviation
Wabash has recently diversified into new industries to support a growing number of clients in the rail and aviation industry with custom vehicles and equipment.
We make Helicopter Refuelers to haul jet fuel for remote forestry locations. A client came to us asking if we can help them to eliminate the need for barrel refueling and we provided the solution. These can accommodate any filtration requirements as well as flow rates.
We have also made several vehicles for the rail industry that provide fuel service and maintenance support for our rail clients. Our Direct To Locomotive Refueling trucks (DTL) allows our clients to operate 2 pumps simultaneously and provide fleet fueling data monitoring and tracking of high flow volume.
Our other service and maintenance vehicles for the rail industry include remote workshops for Signals and Communications, Locomotive Service Trucks that can deliver oil, coolant and sand, waste removal, and include a heated workshop.  Our most recent projects for rail include Basic Track Main Fleet trucks that provide crew maintenance space for hi-rail installation which we are exporting to international clients.
Custom mounted equipment for trucks
Wabash can provide custom equipment mounted to standard chassis which is an affordable solution for many of our clients' particular needs.  Our clients can bring us their own standard chassis, including Caterpillar or Komatsu, and we can equip them with customized fabricated solutions transforming their trucks into specialized support vehicles. Wabash has also partnered with some of our favorite distributors to bring our clients customized components and mounts for their specific needs.
Steamer truck dimensions are customizable to suit the needs of our customers' various requirements.   For example, our steamer truck was designed by our engineers to be effective in the rugged mining environment of Northern Canada.  The unit has adjustable temperature controls allowing it to dispense hot water and steam at very high volume and pressure.  With safety and productivity in mind, controls are located on the driver's side cabinet and automatic shut-off features have been included.  The steam truck was engineered to include a future manlift installation for added flexibility.
Wabash provides end to end solutions to service and support for heavy equipment
Wabash provides end to end custom manufacturing for their clients, so we are a one stop solutions provider.
For 40 years Wabash Mfg. Inc has been known for doing what has never been done before for our clients big and small. We will design and engineer a new custom solution, manufacturing to the highest quality to last in even the harshest conditions. Then we'll deliver our units nationally or internationally and train our clients to use and troubleshoot the equipment to ensure their confidence and safety. Wabash Mfg. Inc. stands by all its products and provides service and repair for all our vehicles.  We also provide parts for a wide array of support vehicles and equipment and inspections and testing of highway tanks and portable tanks, as a Transport Canada registered facility.
We are here for you as we celebrate the Wabash Mfg. Inc. 40th Anniversary
As we commemorate 40 years of Wabash Mfg. Inc., we take this opportunity to applaud our expert teams that dedicate themselves every day to solve the needs of our customers.  We celebrate the diverse and innovate solutions we deliver to support a growing list of companies and industries and we celebrate the long list of loyal customers that continue to rely on us over the years.   Thank you for your trust, your support, and your business. 
Contact Wabash Mfg. Inc for all your manufacturing solutions.