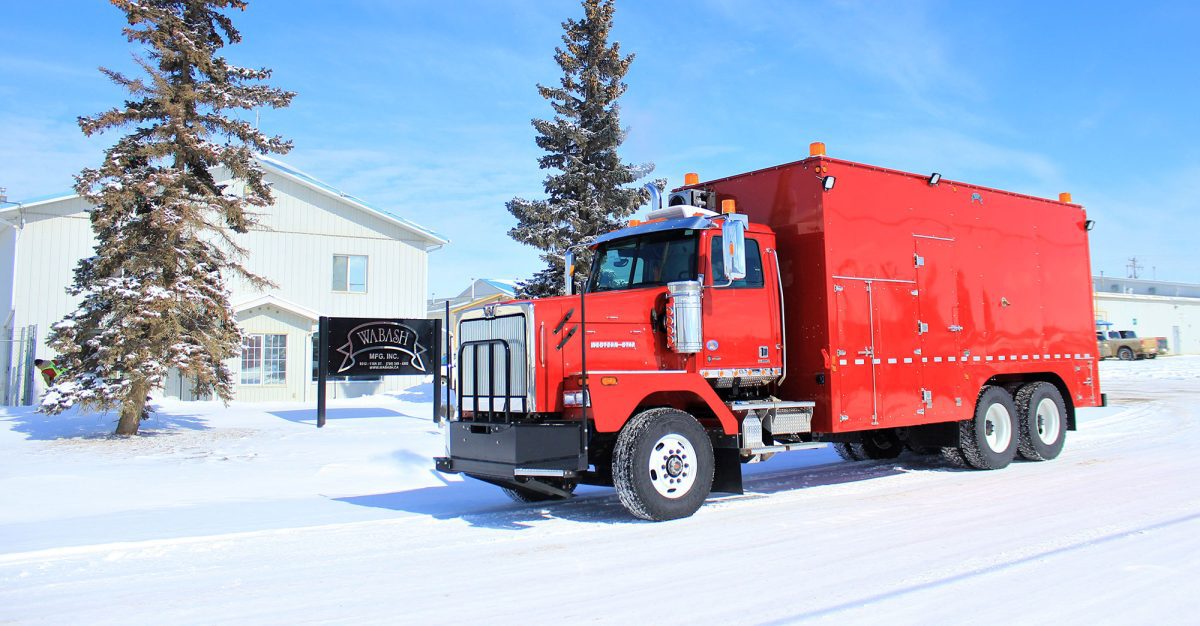 Wabash Mfg. Inc. is a pioneer and major player in introducing exclusive custom mining equipment and custom support equipment for mining. Our innovative mining solutions come with  low-cost options. Here's a bit more info on our custom mining equipment.
Customized Mining Equipment
Wabash Mfg. Inc. has a wide array of oilfield and mining equipment to save you time and money. We pride ourselves on providing vehicles and equipment that are specifically designed and engineered for Western Canada's mining operations and conditions. Our staff works closely with our clients and creates custom equipment for mine sites specifically tailored to their needs. The customization of our mining equipment allows us to effectively create solutions that work. 
Our customized mining equipment includes our off-road vacuum trucks for mining, articulating fuel and lube trucks, lube skids and lube islands, fuel and lube trucks, fuel transport trucks, mobile lunch units for mine sites, and mobile maintenance trailers.
Wabash Mining Support Technology
Our staff is known for their superior technical training. Wabash Mfg. Inc. employs staff that have experience on the ground. What this means for you is that you are guaranteed that all mining support equipment you purchase from Wabash Mfg. Inc. is reliable, efficient, effective, and is built for the long haul. Some examples of our mining support technology include:
All of our tanks are designed using the latest technologies including 3D modeling and Finite Element Analysis Software. 

Our fuel trucks come with a Cellular Data Management System option for a simple way to track fuel usage.

Our custom fuel and lube tanks are available with dispense monitoring options with computerized recording.
Fuel Transport Trucks:

Our fuel transport trucks are used to support the mining sector. What makes our fuel trucks unique is that we offer complete customization of all of our fuel transport trucks according to a company's specifications. For example, fuel tanks can be mounted to various manufacturers, from the Ford F550 or Dodge Ram to tridem drive units and more.

Custom Fuel And Lube Trucks: Our Fuel and Lube Trucks are expertly manufactured and easy to operate. Our trucks are specifically created to withstand harsh climates. The trucks are especially suited to countries with colder weather. Trucks can be customized to suit business specifications.
Lube Skids:

Wabash Mfg. Inc. manufactures stationary lube skids, and lube islands. Our lube skids and lube islands are essential in the mining industry. Lube skids and lube islands can be customized to suit the unique requirements of any business.

Articulating Fuel And Lube Trucks: Wabash Mfg. Inc. custom designs a range of Articulating Fuel and Lube trucks. Tank capabilities can be adjusted to meet customer requirements. Our articulating fuel  and lube trucks are manufactured to ensure an expert level of reliability and stability for all of our clients.
Remote Mine Site Solutions
Mobile Maintenance Trailers: 

Our Mobile Maintenance Trailers are safe and reliable, and have helped our clients during the toughest mining conditions throughout the years. The mobile maintenance trailers include a fully stocked work area. Features of the trailers include a powerful generator and comfortable and well-lit lunch room space.

Mobile Lunch Room: Wabash Mfg. Inc. designs mobile lunch rooms to meet all businesses needs. The benefits of our mobile lunchroom include a decrease in your downtime as it provides workers with a break room area in close proximity to their working space. Mobile lunch rooms can be customizable and include multiple configurations, including a mounted chassis from single axle to tridem trucks or trailers.
Off-Road Vacuum Trucks:

If your business is in need of an Off-Road Vacuum truck, we have industry-leading designs that can withstand harsh environments. Our vacuum trucks are rugged and durable enough to withstand even the harshest mining conditions, such as mining roads, extreme weather conditions, and rough terrain.