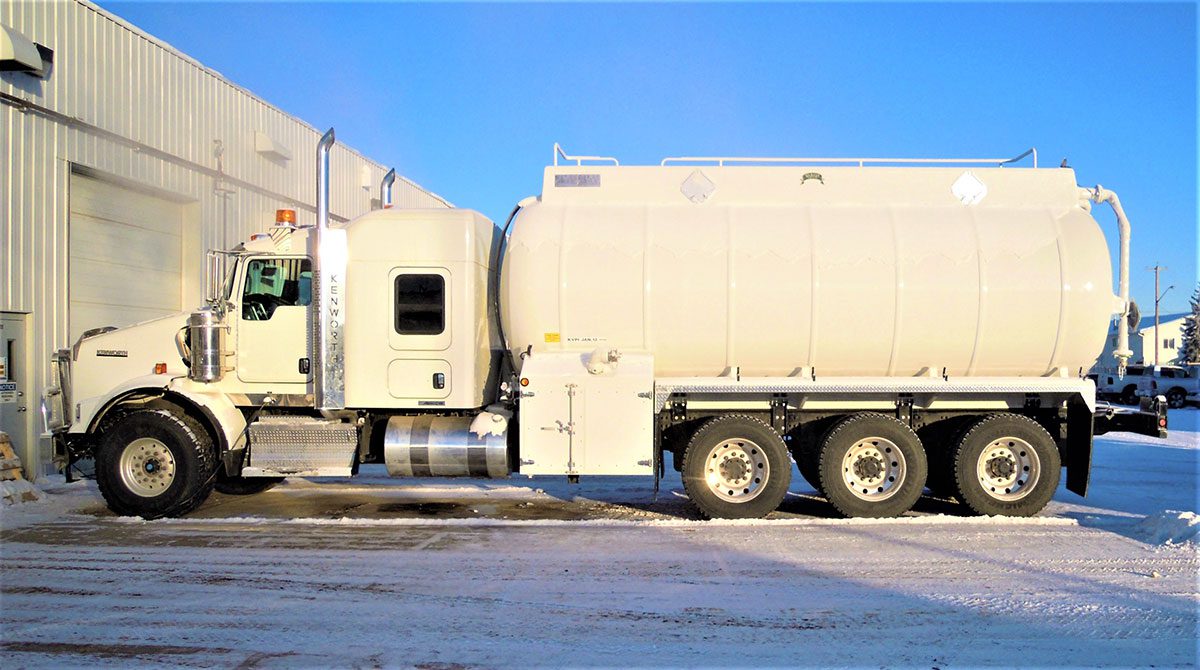 Wabash Mfg. Inc. provides custom oilfield support and fluid hauling vehicles in Canada built to provide protection from the harshest environments. Our clients have trusted us throughout the years for our wide array of oilfield and mining equipment, fluid hauling equipment, custom oilfield support equipment, and services and repairs. Here's why our equipment and services are so reliable.
Providing Fluid Hauling – Tanker Trucks
When it comes to fluid hauling, we know that oil and gas sector tank trucks are subject to tough conditions. Wabash Mfg. Inc. builds tanker trucks that are designed to outstand tough extremities.  
We manufacture tanker trucks using Fibreglass Reinforced Plastic, Aluminum, Steel and Stainless Steel.  Tank sizes can be customized to be mounted on single axle, tandem axle or tri drive trucks.  Our tank trucks are the toughest you will find with a number of different head sizes and lengths to suit the application. Features of our tank trucks include:
TC407/412 Full Spec, TC406 Full Spec, TC406 Crude, or Non-Spec

Tank Sizes available for Single axle, Tandem axle or Tri drive

Capacities from 1,000 to 50,000 Litres

Single or Multiple Compartments

Tank Mounted Cabinets available with Insulation and several Pump / Plumbing package options.

Custom hydraulic drive systems available. Valve options with Buna, Viton, HSN or Teflon seals.

CMVSS Certifications for all on-highway equipment, including National Safety Mark (NSM)
Oil and gas are crucial resources that are in constant demand. You need to ensure that your equipment runs smoothly so that there is no disruption in oil and gas supply and distribution. Our units are customizable and can withstand the toughest weather conditions. Our engineering teams design fuel and lube trucks to ensure that you maximize your productivity. By giving you the option to customize the truck according to your company's color scheme and logo.
Thermal Barrier Protection Custom Features
Thermal barrier protection is essential for fluid hauling during extended periods of time of far travel distances. Our lube and fuel combo trucks provide all the essential clean fuel, lubricants, greases, and anti-freeze/coolant required to minimize production downtime as well as provide storage capabilities for used fluids. These units are built to last and withstand the harsh Canadian climate.
Different Types Of Oil & Gas Support Vehicles
Our oil and gas support vehicles help to transport oil and gas to even the most remote areas. For fuel transport solutions that go the extra mile, choose one of our customizable support vehicles, including our fuel delivery trucks and heavy duty fuel transport trucks. Some features of our fuel trucks include:
Fuel Delivery and Fuel Transport Trucks
Available on multiple chassis from Ford F550 to 50,000 Liter 60 ton articulating haul truck

Onboard Fuel Delivery Monitoring helps manage costs with comprehensive fuel delivery reporting 

Cellular Data Management System option for simple way to track fuel usage

Exterior and Interior operator stations

All Safety placards, product decals and operating decals come standard

Now available with option of  DTL Fueling System capable of delivering more than 23,000 Litres at 4,000 Litres per minute
Custom Wabash Vehicles
Wabash Mfg. Inc. provides bulk fuel delivery trucks to many industries but every industry and requirements are different. There is no such thing as one-size-fits-all, and this is why our in-house engineering team designs customized solutions for each of our clients. You can trust our expert team to help your company to build custom fuel delivery trucks to suit your exact business needs.
For more information on Custom Oilfield Support Vehicles, contact our team today!