Water trucks have a crucial part to play in the world around us. These trucks, designed with water tanks to distribute water safely and effectively, can be used for delivery, fire suppression, dust suppression, and so much more.
In this article, Wabash Mfg. Inc. discusses these trucks in detail to help you learn everything you need to know before procuring one of your own. This article will act as an introduction to a series of explorative blogs that will be published over the next few months on the high quality and innovative water trucks manufactured by Wabash Mfg. Inc.
Types and Capacities of Water Trucks
Water truck tanks are designed to transport water safely. They are available in different types and sizes depending on the specifications and needs of the business that utilizes them. The size of the tanks is determined by the max gross vehicle weight of the truck and is determined by the area they operate in. Some smaller water trucks will have a capacity of between 5,000 and 10,000 litres (1320.86 – 2641.721 gallons), whereas bigger tanks will hold up to 20,000 litres (5283.441 gallons). 
Different worksite settings have unique needs that need to be considered, and since water trucks can be customizable, it is possible to get one that is ideal for your needs and wants specifically. Although the tank capacity isn't the only customizable part of a water truck, this is the central part of the truck and getting the right size and type for your needs is essential. Some different types of tanks include:
To determine the water truck capacity you will need to look at your goals. Water tanks are designed to maximize the capacity of water that you can carry at once. They also include a number of baffles that will keep the movement of the liquid to a minimum; this is also referred to as surge to maintain stability during travels.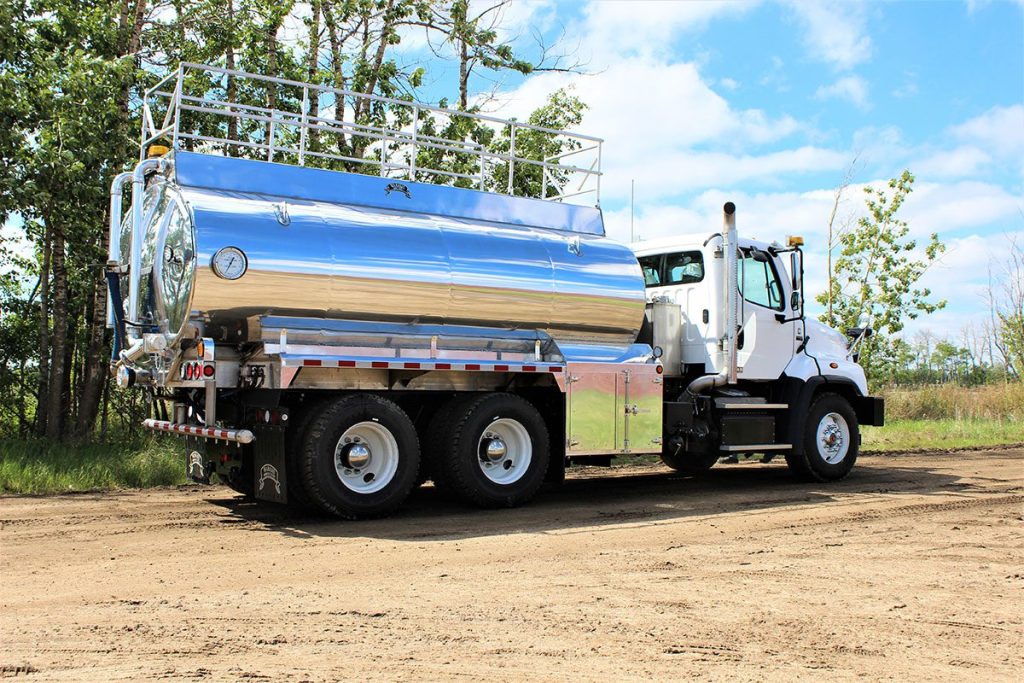 Top 5 Uses For Water Trucks.
Different types of water trucks are used in different scenarios. When you are looking for a water truck it is good to consider in which context this truck will be used, how much water you need and over which period of time you will need it. Water trucks are used for:
Residential use: In some cases, homeowners might use water pump trucks to transport large amounts of water to their homes. This can be done for many reasons, such as filling tanks in a shortage of clean water, filling large pools, cisterns or spraying certain parts of land.
Commercial use: Water trucks are an essential part of many job sites. They are used to provide drinking or fresh clean water, wash off equipment, wash filter materials and power pressure washers. The specifications for trucks used in the commercial industry will depend greatly on the particular project's needs.
Farming: Used in essential functions such as irrigation, these trucks can have a massive impact on the efficiency of a farm, especially on remote farms and in the event of a drought. These trucks play an essential part in drought survival and recovery for farmers.
Municipal use, firefighting and disaster relief: This includes the use of water trucks in the event of fires, drought, or any other natural disasters. In this case, these trucks will be used as water sources to distribute clean, usable water to communities in need. This is a much-needed solution used to help aid in recovery after disaster strikes.
Construction and mining: Water trucks play a vital role in stopping the rise and spread of dust from large-scale constructions and mining operations. Suppressing these dust particles can help to maintain the longevity of machinery and workers' health. This water is also used for many other vital purposes during the mining and construction processes.