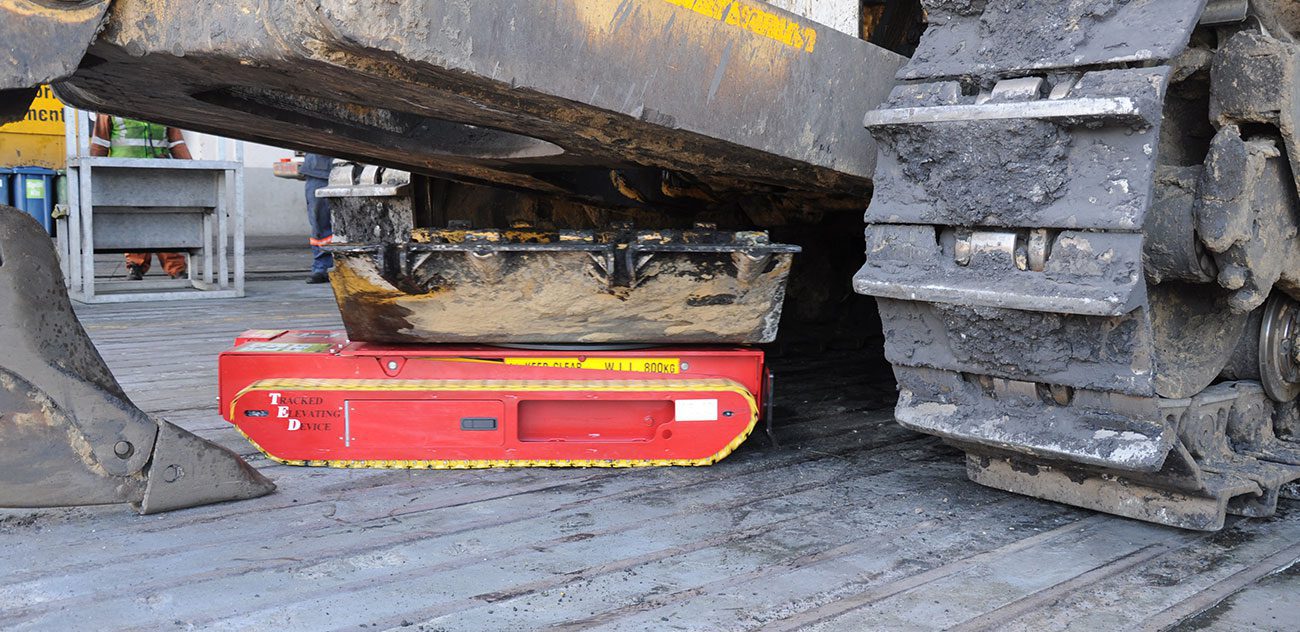 Safety first. The cleverly designed Tracked Elevated Device (T.E.D.™) eliminates workplace risk associated with suspended load hazards. It is a highly efficient remote-control device for safely and efficiently hauling heavy loads. By using the variety of attachments available with TED®, he can also help protect against shoulder and back injuries, hand and finger strip, pinch and crush injuries.
Making Loading Safer For The Worker
Your workers won't have to carry heavy loads around the workshop which will reduce their chances of workplace injuries. TED™ can also carry your equipment around the worksite.
Safety Practices
Safety is the number one aim of TED™ and comes with all the features you'd expect of a device designed with safety in mind. Tracked Elevating Device (T.E.D.™) is wireless, remote-controlled, battery-operated, and capable of navigating a wide variety of terrains.
Standard Features For T.E.D.™ This Safety Equipment Makes A Safe Device For Heavy Lifting
The hydraulic jack has a skid-steer track system that offers stability, maneuverability, and ease of use. Here are some featured attachments for TED that comes in standard versions:
Front Blade

Track Roller Carrier

Cutting Edge Tool

Steer Cylinder Cradle
As a custom manufacturer, our team of engineers use their expertise to design custom solutions for use with TED™ according to your specific business needs. Contact us if you don't see an attachment that works for you. We'll gladly create what you need.
Having a TED™ on your worksite is essential especially if you work in confined spaces. It will safeguard your workers from fatal injuries and significantly improve the efficiency of your service, repair, and maintenance activities.
Cost Effective
TED.™ can significantly reduce overall costs by decreasing equipment downtime and decreasing your costs. Wabash Mfg. Inc. is the exclusive distributor for TED in Canada, Washington, Idaho, North Dakota, and Minnesota.
Material Handling Standard
TED® is the only remote-controlled, all-terrain, hydraulic, belly plate jack on the market. It eliminates suspended load hazards associated with the removal of equipment belly plates by allowing workers to remove equipment belly plates safely and efficiently using TED's remote control.
Wabash Mfg. Inc. exclusively distributes TED as an essential piece of safety gear. TED™ is essential for those who work on dozers, graders and other large equipment. It also assists people who work with dump trucks and mining machinery. With a variety of attachments, TED™ is helpful to personnel who need to carry heavy loads in tight spaces and workshops. 
Improve the efficiency and safety of maintenance operations in your workplace with the versatility and reliability of a TED®.
As we mentioned, TED™ can be customized according to your business specifications. For more on our Tracked Elevated Device (TED™), contact our expert team today!