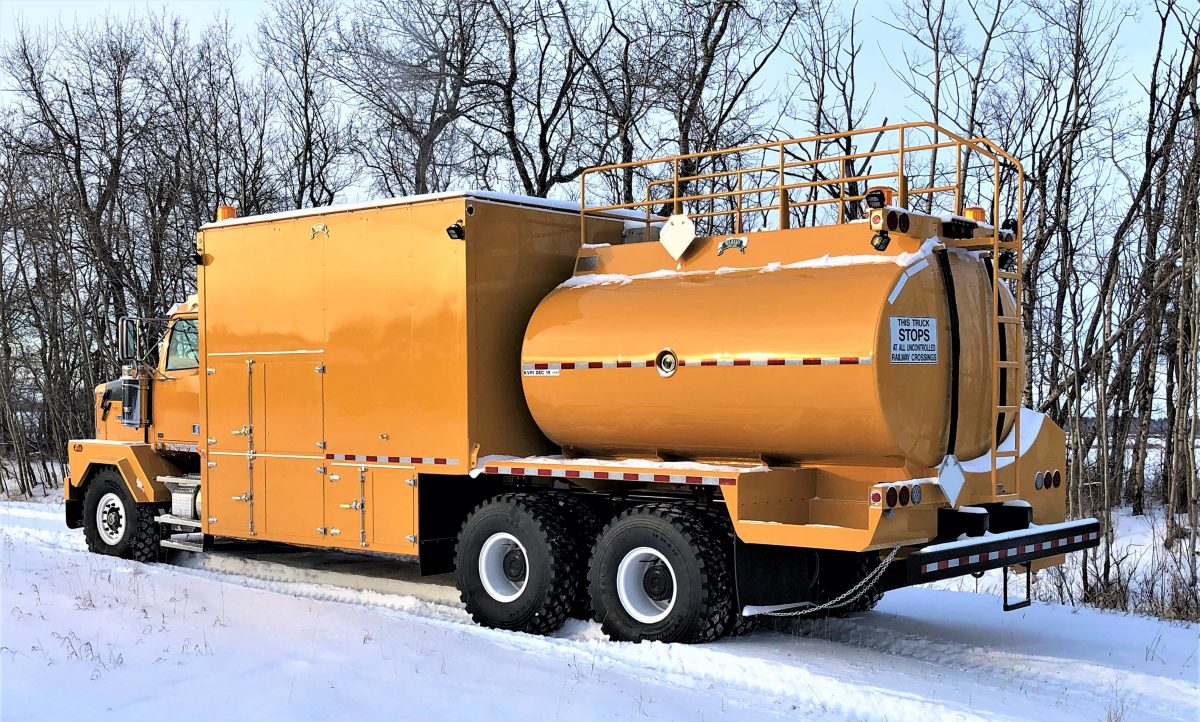 Our clients have trusted Wabash Mfg. Inc. to provide trucks, tanks and other equipment designed to support and service vehicles used for the construction of infrastructure projects in Canada and the USA.   
We are proud to have provided support equipment for municipalities to construct or service some key projects in Canada including the Peace River Bridge connecting Canada and the USA for which Wabash built fuel and lube units to keep the vehicles needed in the construction of the bridge operational.
To assist in the building of the Trans Canada Pipeline, Wabash manufactured fuel and lube trucks, fuel delivery trucks, stationary fuel tanks and skip boxes to help subcontractors keep the construction site organized and operational.
Wabash, always looking to help our clients, completed the re-painting of  a 750 tonne crane for a contractor working on the Fort Saskatchewan Hydrogen Plant. In addition to providing customized fuel delivery trucks to reduce equipment downtime. 
For the Tlicho Highway Project in Northwest Territories, Wabash played a role in helping the road construction to better connect the Indigenous peoples. We manufactured stationary lube tanks and fuel delivery trucks used to keep the construction vehicles and equipment operating efficiently in this remote and rugged area of Canada.
Our expert teams provide customized solutions guaranteed to meet and exceed your unique needs. Our refuelling trucks and refuelling islands are an essential time-saver during road construction to support your other equipment in the field. They refuel your equipment on job sites keeping them working and off the roads. Here's why our equipment and services are so reliable.
Oil and gas are crucial resources that are in constant demand during construction projects. You need to ensure that your equipment runs smoothly so that there is no disruption in fuel supply and distribution. This is where Wabash Mfg. Inc. can help keep your heavy equipment maintained and operational without having to leave the site.
We manufacture various types of fuel and lube trucks to provide the fuel, lube, grease, anti-freeze or coolant required by our clients during the construction of infrastructure projects.   They are heated and insulated for year round use and are built and certified for highway use. 
Our engineering teams design fuel and lube trucks to ensure that you maximize your productivity. We also give you the option to customize the trucks  according to your company's color scheme and logo.
We also have trucks that can be used for easy and quick refueling during road construction. Our fuel delivery trucks are fully operable in tight areas where there may be height restrictions or a small turnaround area. 
They can also be used in the toughest weather conditions, making it a piece of important equipment to have during the harsh Canadian and USA weather conditions and in areas where there is a lack of stable terrain.
For more information on how our fuel delivery trucks and equipment support infrastructure in Canada and the US, take a look at our website or call us today!